A collaborative, virtual gingerbread building experience.
WHAT IS THIS?
My family's annual holiday tradition of making gingerbread houses out of Graham crackers is not quite possible this year… at least not in person. So this is an experiment I made to recreate the fun of building together and hanging out for a day while listening to Christmas music and catching up. The best part is: this year's experience guarantees no sugar crash later!
Pearl is now making this experience OPEN YEAR-ROUND, so you can recruit your friends to be part of your virtual gingerbread building team that will attempt to build the biggest, most beautiful, most elaborate or most innovative candy-coated creation that the internet has ever seen using sheer willpower and an army of pixels.
FREE CANDY
I have supplied plenty of digital candy this year including unlimited nonpareils, Necco wafers, zebra stripe gum, and gum drops. Please click below for the GIFt bag full of these and more goodies that you can use to decorate your house:
You're welcome to search the web for transparent images and add whatever you want to your space.
For simplicity's sake, I created the standard 2×2 Graham cracker house base, but I have added some different sizes and angles of Graham crackers into the pack to allow you to create add additions, porches, chimneys etc.
HOW DOES IT WORK?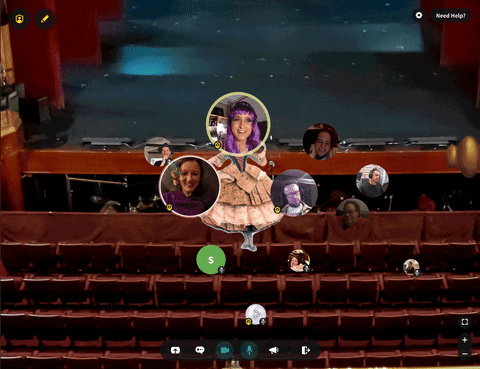 This revolutionary platform is so much better than Zoom! It's called Spatial.chat, and it allows you to mingle more naturally just like we do at offline social events. Even better, it does not require any downloads or registration.
I've been hosting events on this platform for the past few months with groups of all ages, tech-lovers and luddites alike. You may have seen the Party Pirate Cove or High Feather Worlds theater.
How it works: a video of your face appears in a bubble, which you can then move about the shared space. When you get close to someone, you can hear them more, and if you move away you will hear them less and eventually not at all. The same works for livestreams and other audio sources (Twitch or YouTube) which means we can have real dance parties with our friends spinning, and still be able to talk and interact while the music is playing!
The audio experience alone makes it worth trying out. You don't get cutoff like you do in Zoom, Google Meet, FaceTime, so conversations feel more natural.
---
🍭 HOW TO PARTICIPATE 🎄
Join the Collaborative Winter Wonderland
✯ Invite some friends. Share this page to invite friends to build with you – up to 25 people can join at the same time.
✯ Move freely and explore. This app is not your typical video chat: you can move around to join different conversations!
✯ Share and build. It's really easy to add images to decorate your house. You can also help by switching the YouTube playlists and being a music maestro or singing carols for the builders.
HOW TO BUILD
---
TECH TIPS
Use a headset as it will reduce echo and feedback for everyone.
When you join the space, you will be prompted to turn on your microphone and camera with a preview to test if it's working. You can always use the chat if it doesn't.
This is still a very new app, but it is generally stable. Most tech issues can be resolved by:
Using Chrome browser on a laptop or desktop computer.
Closing browser tabs. Really.
Refreshing the page and re-joining the room with different audio/video settings.
Using a headset, especially if people are complaining of echo. You can always mute yourself but we like to have you un-muted if possible.
Troubleshooting your internet connection. Check if you have a 5G wifi network available. Get closer to your router, or reset your router.
OKIE I'M READY!
On a computer with a stable internet connection, click the button below to join the event. If you are on mobile, you will not be able to see any shared videos and may have connectivity, audio or other issues.
The first time you join, you will see a quick guided tour. You can access this again in the top-right corner of the screen where it says Need Help? and then click Tutorial.
HAVE FUN!
Feel free to share a screenshot in the comments as you build!