Pearl's Place is a cafe by day, neighborhood lounge by night with uniquely designed immersive spaces like the Oyster Bar, Pavilion, and Party Pirate Cove. Pop in and see what's happening, meet some new people or run into an old friend.
UPCOMING EVENTS
(click to learn more & RSVP)
There are no upcoming events at this time.
Check our event calendar for other community events held at Pearl's Place.
The World is Our Oyster
From MySpace to Our Space, Pearl's Place represents a conscious evolution of online social networking. This video platform is a 24/7 welcoming space for our community of party people to mingle and hang out in a realtime, ad-free and truly connecting environment. We produce bi-weekly showcase events in our virtual venue that push the limits of technology and fun, in addition to many other donation-based events each month.
✯ Come as you are. Wear a onesie and dress down, or get dolled up in your sparkly things.
✯ Mix & mingle. Navigate through the room until you find a conversation that tickles your fancy or start one of your own, just like a cocktail party!
✯ Explore beautiful and unique spaces. New environments are added all the time for you to enjoy.
Be forewarned: this is not a zzzzZoom. Side effects may include excessive fun and a feeling of natural social interaction.
---
Now available: RENT Pearl's Place for your happy hour, club meeting, birthday party or other social event. For a limited time, I am offering a complimentary self-serve / diy package to those who request it! If you'd like additional support in hosting or creating the event of your dreams, let's have a chat.
---
WHAT IS THIS, EXACTLY?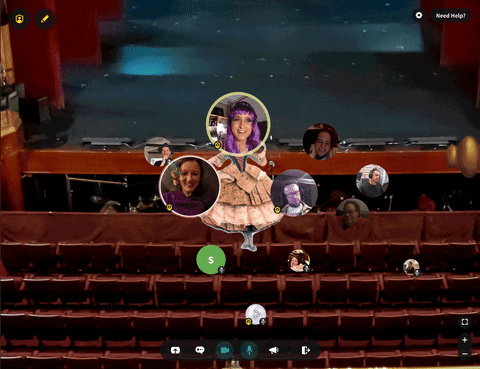 We are building social experiences on a revolutionary platform called Spatial.chat, which allows you to break out of your video boxes and move around an environment, kind of like VR. Even better, it does not require any extra hardware, downloads, or registration.
I've been hosting weekly events on this platform since October 2020 with groups of all ages, tech-lovers and luddites alike. You may have seen the Party Pirate Cove or High Feather Worlds theater.
How it works: a video of your face appears in a bubble, which you can then move about the shared space. When you get close to someone, you can hear them more, and if you move away you will hear them less and eventually not at all. The same works for livestreams and other audio sources (Twitch or YouTube) which means we can have real dance parties with our friends spinning, and still be able to talk and interact while the music is playing!
The audio experience alone makes it worth trying out. You don't get cutoff the way you do in a Zoom, Google Meet, or FaceTime, so conversations feel more natural.
---
🍭 GET INVOLVED 🎭
Join the Social Club & Help Evolve the Space
✯ Are you a cool clam? More info coming soon.
✯ Co-founder opportunity! More info coming soon.
---
40 SEC TECH TIPS
Test your tech. Use a headset for audio if possible as it will reduce echo for everyone. If you have multiple people in your house wanting to participate, you should each login separately but far enough away physically as not to get feedback.
When you join the space, you will be prompted to turn on your microphone and camera with a preview to test if it's working. You can always use the chat if it doesn't.
This is still a very new app, but it is generally stable. Most tech issues can be resolved by:
Use Chrome browser on a laptop or desktop computer.
Closing browser tabs. Really.
Refreshing the page and re-joining the room with different audio/video settings.
Using a headset, especially if people are complaining of echo. You can always mute yourself but we like to have you un-muted if possible.
Troubleshooting your internet connection. Check if you have a 5G wifi network available. Get closer to your router, or reset your router.
OKIE NOW I'M READY!
On a computer with a stable internet connection, click the button below to join the event. If you are on mobile, you will not be able to see any shared videos and may have connectivity, audio or other issues.
The first time you join, you will see a quick guided tour. You can access this again in the top-right corner of the screen where it says Need Help? and then click Tutorial.
See you in the oyster!